Cold Tolerant Avocado trees
6-14-16 I have 10 Avarapa Avocado trees for sale. All other avocados are sold out till next Spring.
Avocados should be planted on high ground. They need adequate water but need good drainage. It is best to build a raised area at least 3 feet in diameter and about 1 foot high. Once you have this raised area, plant in the middle of that area. You are forming a bowl within the raised area and planting in that bowl. When you are finished planting, the plant will be in a bowl with the graft just above the soil line at the bottom of the bowl. Over the course of 18 months to 3 years, soil should be slowly added into the bowl until the graft is completely under ground, which will provide freeze protection.
The trees "will" need to be protected from the cold for two to three years. As the tree matures, the green bark on the trunk will begin to turn brown. This will indicate the tree should be cold hardy to the temperatures that are listed below. When a severe freeze is being forecast, mound additional soil around the trunk of young trees for extra protection.
Start fertilizing young trees after one year of growth, using a balanced fertilizer such as 8-8-8 twice yearly. Fertilizing is done after blooming when fruit is set and again three months later. This should occur approx mid April & mid June.
It is also recommended to protect young avocado trees from direct sun for the first year. One option is to paint the green trunk and main branches with a whitewash. This can be easily made by diluting a white latex paint with an equal part of water and painting it on the trunk and branches, but not the leaves. You can also drape them with a shade cloth or light burlap sack over a wooden or PVC frame a foot or two above the tree. The trees should begin to bear fruit within 2 – 3 years.
JOEY----- Found in Uvalde county Texas by Joey Rivers. The tree is very vigorous and a dependable bearer. The fruit is pear-shaped and dark purple-black in color with a smooth skin. Hardy to mid to upper teens. Ripens Aug-Sept.
Lula -----Developed in Florida around 1900. Large, up to 1 pound, cold hardy. Standard of the industry from 1900 to 1955, replaced as Standard of the industry by Hass in 1955.
LILA-----Originated in Uvalde,Texas Tight growing vigorous tree. Fruit is pear-shaped with green skin. Good flavor. Ripens Aug-Sept----.Half of the articles you read say Lila is good to 15 degrees, the other half say it is good to 10 degrees. Very cold hardy.
MEXICOLA GRANDE----- Mexicola Grande produce elongated Pyriform-shaped, smooth, dark purple fruits during the Summer months. This exceptional hardy tree tolerates temperatures that drop to 18 degrees fahrenheit
I have other varieties when available. They are Poncho, Arizona, Brazos Belle,California Hass, Don Juan.
MEXICAN race: (skin thin and tender, clings to the flesh; flesh of high oil content, up to 30%. The foliage has a pronounced anise-like odor; the tree is more cold resistant than those of the other races or hybrids, thriving near Puebla, Mexico, at 500 ft (1,800 m) above sea-level.
3 gallon Avocado trees-$45 each. 10 gallon Avocado trees $155 each.
Ray 504-931-9768 2032 Pasadena Ave. Metairie, La.

Ray 504-931-9768 2032 Pasadena Ave. Metairie, La.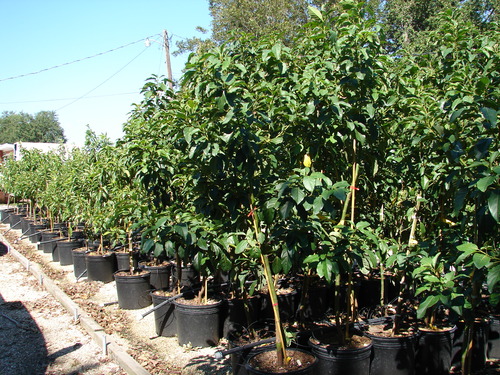 citrustrees@bellsouth.net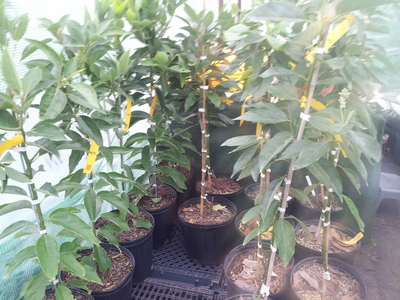 11 months in a 25 gallon pot.